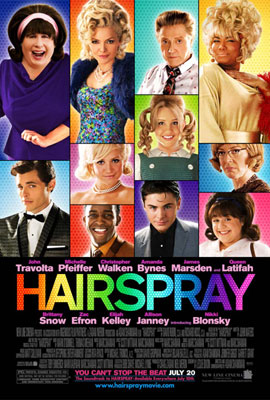 Welcome to You Can't Stop The Beat, a fan site dedicated to the 2007 movie version of the Broadway show Hairspray. Take a step back in time to the 60s and enjoy your stay!
Destinations
(Click on the stars to visit the various pages)
Good Morning Baltimore! The movie's story, trivia tidbits and more
The Nicest Kids In Town Meet the cast
I Can Hear The Bells The music and songs of "Hairspray"
I Know Where I've Been Graphics and goodies for fans of the film
We've Got So Far To Go Links to Hairspray-related sites




Hairspray movie ©2007 by New Line Cinema. No challenge to ownership intended in the making of this fan site
Created February 16, 2008 by Stephanie
Images credited to the Official Hairspray Movie Site and the Internet Movie Database. Background image from Webweaver.nu