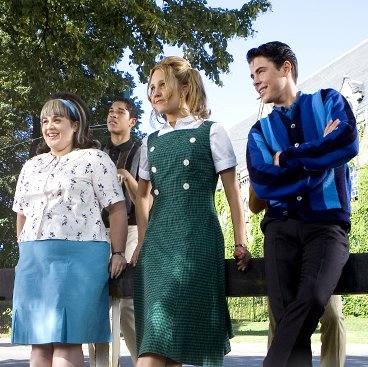 In this section, you'll learn about the film, some background history and pick up some little trivia tidbits too. So step out into the town where "every day is an open door"!
Back To Its Roots
"Hairspray" began in 1988 when the original John Waters movie hit the big screen. 14 years later in 2002, New Line acquired the rights to the story and staged a smash Broadway musical, going on to win multiple Tony awards and spawn productions around the world. 5 years later on July 20, 2007, the Hairspray saga came full circle with the release of the big-screen adaptation of the musical that has become one of the highest-grossing movie musicals of all time, become a hit with moviegoers and had critics singing its praises
The Story
Baltimore, 1962. A time of morals, tradition and values. But one girl dares to break the mold...
Tracy Turnblad is a teen with big hair and big dreams. Her one ambition in life is to be a dancer on The Corny Collins Show, the most popular local TV dance show (which many of her classmates at school are a part of) and to catch the attention of the show's resident heartthrob, Link Larkin, whom she has a huge crush on. When she seizes her chance, she makes a meteoric rise to stardom which arouses the jealousy of the show's reigning princess, Amber Von Tussle. Velma, Amber's mother and the manager of the TV station where the show airs, schemes to get Tracy out of the spotlight.
It is also a fight for equality. When Tracy meets Seaweed J. Stubbs (a dancer on the show's Negro Day) and his mother Motormouth Maybelle, she decides to help fight to make the show integrated. It will take the help of her best friend Penny, her big-hearted mother Edna and faith in herself to make her dreams come true. How will she do it? Well, you will have to watch the film to find out!
Trivia Tidbits
* The movie was filmed in Toronto, Canada. Dundas Street and Roncesvalles Avenue served as the backdrop for Tracy's Baltimore neighborhood
* Interior school scenes were filmed at an old school in Hamilton
* Original film director John Waters makes a cameo appearance as "the flasher who lives next door" in the opening musical sequence of the movie
* Jerry Stiller (Mr. Pinky) played Wilbur in the original 1988 film
* All the principal actors (with the exception of Allison Janney) did their own singing and dancing
* The size of the "Corny Council" doubled in the movie, there were 20 members compared to 10 in the stage show
* The film made use of over 1,500 extras which included dancers from all over the United States and Canada
* Ricki Lake, the original Tracy from 1988, appears as a talent agent during the Miss Teenage Hairspray pageant. She also sings on the soundtrack with Nikki Blonsky (Tracy in the '07 film) and Marissa Jaret Winokur (Tracy from the original Broadway cast)
* Harvey Fierstein (the original Edna on Broadway) does a cameo speaking part on the soundtrack during the song "Mama, I'm A Big Girl Now"
* Director Adam Shankman and songwriters Scott Wittman and Marc Shaiman also appear in cameo roles
* Kelly Fletcher (Lou Anne), Jesse Weafer (IQ) and Sherisse Springer (Detention Kid) are all part of the Canadian cast of the Queen musical We Will Rock You
Back