The Hollywood Squares Ring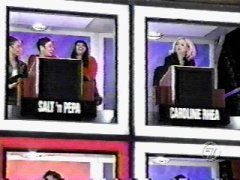 Caroline: Can I join the ring too?
Welcome to the first webring on the net about one of the coolest game shows ever, Hollywood Squares. If you love Hollywood, then this is the place to be. Have a look around, and hope to have you as part of the first "Squares" ring at RingSurf!
Who can join?
Anybody with a Hollywood Squares site. I also welcome game show-related sites and fans of the show. The sites or obsessions can relate to the classic Squares of the 1960s, the late 80s version and/or "Squares 98". That's what makes this "Squares" ring so much fun!
The one thing I must stress is that your site must not have inappropriate material or your submission must not contain a bogus link
What do you have to do to join?
1. Fill out the form with your name, e-mail address, page title and URL, plus a short description of your site to be added to the queue.
2. Add the HTML Fragment to one of your pages, which will be displayed after adding your site to the queue. It will be customized with your ID number
3. E-mail me, Mystic Girl, just so I can make sure you have the fragment up. Once that is all done, I will add you!
Green Room