The Voting
The Kohaku Uta Gassen is a competition to determine which team performs the best overall through the two halves of the show. And like Eurovision, it relies on voting by the public. Voting methods for Kohaku have changed greatly over the years, but the scoring used in the 62nd edition was first introduced in the 58th edition and is made up of 4 different parts. They are as follows:
Digital TV: Viewers watching through ISDB-S participate in voting by taking a head count in their own households. Each act is paired up with one from the opposing team and are voted on via the household's remote control
1seg: A mobile video broadcasting service. Viewers with 1seg service can vote through their devices
Cell phone: Cell phone users text their votes for their favorites
Head Count: An on-site head count of the audience and judges at NHK Hall is conducted after the last act of the show has performed. They indicate their choice by holding up either a red or a white colored card (in the 62nd edition, the judges held up a red or white Kohaku mascot doll to indicate their choice)

Voting starts as soon as the first two acts have performed and continue throughout the show. At the end of the first half before the 5-minute news break, the intermediate vote results are shown
As you can see, the Akagumi (red team) have a substantial lead over the Shirogumi (white team) at this point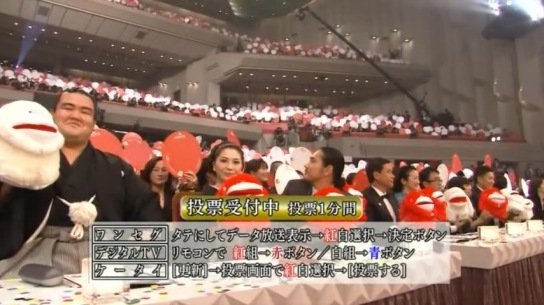 The head count in progress, including last-minute voting instructions

After the head count in the hall concludes, a recap of the performances is shown and final remarks are given by the respective team leaders. The head count votes are added together with the votes from the digital TV viewers, 1seg users and cell phone votes into one composite total for each team to determine the winner. And the winner of the 62nd Kohaku Uta Gassen is...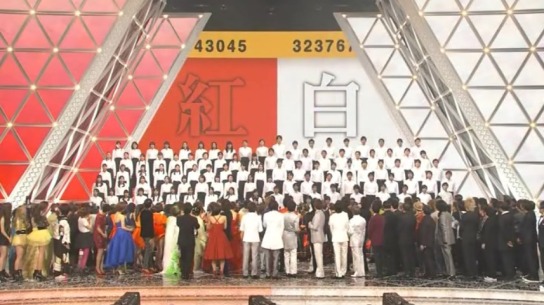 The Akagumi! This was the first victory in 7 years for the female team since the 55th edition, snapping the record streak of 6 consecutive victories by the Shirogumi. Let's have a look at the final totals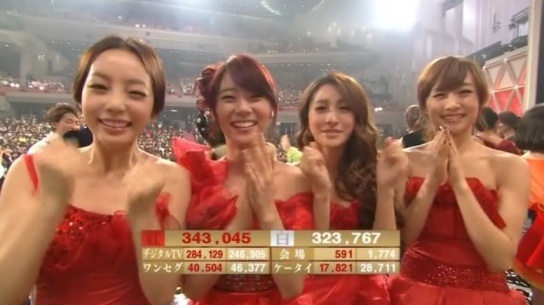 Though the men gained the most cell phone, 1seg and head count votes, the ladies dominated in the digital TV vote by almost 38,000 votes, which cemented their victory. In this shot, first-time performers KARA celebrate helping their team to this milestone occasion

The victory flag is presented to the leader of the winning team by one of the judges. Mao Inoue is so overcome with emotion after having led her team to this well-deserved win