The "You Fool" Awards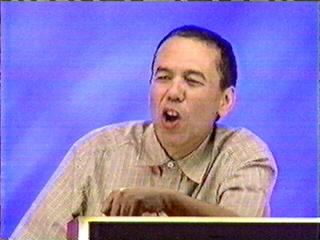 Here is the complete winners' archive for the "You Fool" Awards!
Funniest Moment
2000: YOU FOOL!
2001: Ryan Stiles adopting Caroline Rhea's answer format
2003: Henry Winkler's April Fool's joke
Best Celebrity Impersonation
2000: Mark Stender for Gilbert Gottfried
2001: (tie) Whoopi Goldberg for Mahatma Gandhi and Kermit the Frog for Colin Mochrie
2003: Ilon Gold for Gilbert Gottfried
Favorite Regular
2000: Gilbert Gottfried
2001: Caroline Rhea
2002: Brad Garrett
2003: Martin Mull
Weirdest Thing Tom Has Ever Done
2000: Whacked a contestant with his question card
Best Bluff
2000: (tie) Gilbert Gottfried for "Get through to the cable company" and Whoopi Goldberg for "I'm a big ol' [bleep]"
2001: (tie) Gervase Peterson for "Large flotation devices" and Triumph the Insult Comic Dog for "Lhasa Oprah"
2003: Martin Mull for "Hermaphrodite"
Favorite 5-Time Champion
2000: Sunshine Daye
2001: Mike Scanlon
2002: Kimy Whitmire
2003: Charlie Brown
Best Theme Week
2000: Week of the "Tic-Tac-Terminated"
2001: Survivor week
2002: Hollywood Scares
2003: Game Show Week
Most Embarrassing Momnent
2000: X Defeats O $12,000-0 in the "Infamous December 4, 1998 Romp"
Best Line
2001: "As soon as you're done with your little show, I want my clothes back!" (Jeff Probst)
Best Celebratory Display
2001: Tarek Tolba after winning a second car
2003: Charlie Brown IV after opening the $25,000 safe
Favorite Overall Contestant
2000: Mark Stender
2001: (tie) Mike Scanlon and Tarek Tolba
2002: Mark Spagnolo
2003: Charlie Brown
Favorite Overall Celebrity
2001: Jenna Lewis
2002: Gilbert Gottfried
2003: Peter Marshall
Achievement Awards
First 5-time champion
2000: Sunshine Daye
2001: May Leale-Dehart
2002: Kimy Whitmire
2003: Lisa Suzuki-Jeffers
First contestant to break $100,000 barrier
2000: Mark Stender
2001: Tarek Tolba
2002: Letitia Austin
2003: Charlie Brown IV
College Champion
2000: Vanessa Bowie
2001: Greg Walsh
2002: Brandon Brooks
2003: Evan Silverstein
Tournament Champion
2000: Dave Brownlee
2001: Lorraine Massey
2002: Mark Spagnolo
2003: Jenny Thomas
Top Money Winner among Non-Undefeated Contestants:
2000: Christy Ellmore
2001: Karolyn Schein
2002: Letitia Austin
2003: John Papapavlos
Special Achievement Award
2001: Tom Bergeron
2002: Whoopi Goldberg, Pat Lee, John Moffitt
2003: Michael Levitt and Henry Winkler
Main Stage