Our Fearless Host
Bio
As host of the new version of Hollywood Squares, Tom Bergeron has taken viewers of the show on a fun-filled ride with his sharp wit and extreme sense of humor, which has carried him to over 30 years of broadcasting experience.
Born on May 6, 1955 in Haverhill, Massachusetts, Tom began his career at the age of 17 when he became the youngest disc jockey ever at his hometown radio station back in 1972. He never knew that one day, this local stint would take him on a journey through a sucessful broadcasting career, ultimately landing him the job of host of Squares 98.
The 1980s were very successful years for him. He created and hosted a late night comedy talk show that successfully ran for 3 years beginning in 1980. In 1982, he joined the staff at WBZ-Channel 4 in Boston, Massachusetts where he hosted several of their programs, including two shows for children that won local Emmy awards.
In 1987, he did double duty. He hosted a local Emmy-winning show on TV and simultaneously hosted Boston's top morning drive show on radio before moving on to another radio station and taking it to number 3 in the ratings.
Tom made the jump to FX (Fox's cable channel) in 1994 when he hosted "Breakfast Time," a freewheeling morning show. The show re-launched on the flagship network in 1996 after much critical success. After the show was canned, he signed on at ABC as the permanent backup for anchor Charlie Gibson on the morning show "Good Morning America." In the spring of 1998, Tom left ABC with several ideas in the works, which included returning to the Fox network. In that same period, he was named host of the new version of Hollywood Squares...and the rest is history!
Other TV credits include host of the 2003 Miss America pageant, hosting America's Funniest Home Videos, celebrity panelist on Politically Incorrect, a guest role as alien trader D'Marr on Star Trek: Enterprise, guesting as himself in a Squares segment in an episode of The Nanny, hosting the surprise hit summer reality series Dancing With The Stars (which he still continues to do) and co-host of the ABC game show special Play For A Billion. He also appeared uncredited in an episode of the CBC news-spoof comedy series This Hour Has 22 Minutes and co-hosted the 60th Primetime Emmys in 2008 alongside Ryan Seacrest, Heidi Klum, Howie Mandel and Jeff Probst. In March 2009, he participated as a player on Celebrity Jeopardy! finishing in third place.
Awards
He is a double Emmy winner with multiple nominations in both daytime and primetime categories. In 2000, he won the daytime Emmy for Outstanding Game Show Host for Hollywood Squares, tying for the honor with Price Is Right host Bob Barker (some noting it as a surprise win). And in 2012, he again surprised many when he won the primetime Emmy award for Outstanding Reality Series Host for Dancing With The Stars just a day before the All-Stars season was set to begin airing on ABC
Tom currently resides in Los Angeles, living with his wife Lois and daughters Jessica and Samantha. His autobiography is called I'm Hosting As Fast As I Can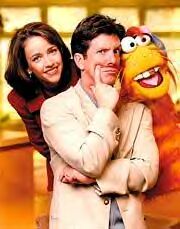 Lobby