Squares Fact File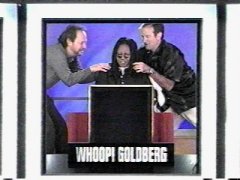 I found some rather interesting facts from other websites and some cyber-pals about Squares. Would you like to see them? They will simply amaze you!
Did you know...
* The show was taped at Studio 33 of CBS in Los Angeles, the same studio where "The Price Is Right" is taped
* Tapings took place every second weekend on Saturdays and Sundays. And in those two days, two whole weeks' worth of shows are done
* The stars' area is 12 feet high and each star sat in a 4-foot square space. The area where Tom and the contestants were was a 10-foot high platform that puts the contestants at eye level with the stars, but at some distance away
* During the revealing of the Secret Square, technicians blacked out the monitors in the studio so the chosen celebrity will remain a secret to the contestants until he/she is chosen. (Check out my funny moments page to see what happens when you don't black out the monitors!)
* Theme songs sure change with the times! H2, for its fifth season, kicked back old school with a re-mixed version of the 80s dance single "Square Biz" by Teena Marie.
* The most people they ever had playing for one week was 19 the week of January 29, 2001. The week of February 15, 1999 holds the record for most stars in one square in a single week (3)
* Steve Radosh did three duties for the show. Not only did he hold the title of Supervising Producer, he also worked as a writer. And believe it or not...he was the judge known as Skippy Trebek (Alex's long-lost half brother)!
* The highest total won by a single contestant is $196,175 set by Jenny Thomas in Season 5
* In the bonus round in Season 5, Karen Neuendorff was the first contestant to successfully capture all 9 stars within the 30-second time limit. She set that record on April 22, 2003. Since then, two others accomplished this very difficult feat
* The highest Secret Square stash total is $50,731 worth of stuff, won by Alicia Paulk in Season 2 on May 16, 2000
* Season 3 contestant Tarek Tolba is the only contestant to have gone through his entire 5-day run without losing a single round. (See "Tolba Factor" in the Bergeronese Dictionary)
* From the "Hey, I didn't know that!" file: Season 2 contestant John Lathan had a brush with TV before. He was on the PBS children's series Where in Time is Carmen Sandiego from 1996 to 1998, playing one of the members of the three-person Engine Crew and various characters, including villain Sir Vile
* Also from the "Hey, I didn't know that!" file: In Season 4, there was a week in mid-November where media personalities played for their favorite charities. One of the contestants was Todd Newton (at the time co-hosting the UPN show Hot Ticket), who would go on to host Game Show Network's revival of Press Your Luck only five months later. He now tours as a motivational speaker and in 2012 won his own Daytime Emmy for Outstanding Game Show Host for his work on the Hub series Family Game Night
* Now we unlock the mystery that has baffled fans since the new series began-what is Tom actually wearing behind his podium? In most cases, nobody can actually see what kind of shoes he's wearing, you can only see part of them when he turns to face a contestant. But all was revealed in the February 15, 1999 episode when he set out on a "kamikaze mission" to get Richard Simmons for causing trouble-he wore sneakers
* Caroline Rhea became the first star on the current series to have occupied all 9 squares on the board when she filled the center square in Whoopi's absence on February 12, 2001. The following day, Brad Garrett became the second person to occupy the entire board when he was the center square for that episode
* Tom occupied a square on more than one occasion. In Season 1 he sat in Rosie O'Donnell's square for one round and asked a question from Gilbert Gottfried's square when a confrontation started between Gilbert and fellow square Stephen Baldwin. In Season 5 during Game Show Week 1, as a fitting tribute to the original master of the Squares, he occupied the center square for one show while Peter Marshall emceed
* Most shows go 3 or 4 rounds on average. Some even go 5 rounds if the games go by quickly, but what about 6? The February 27, 2001 episode goes down in the books as the longest-played show
* And how about one round? This famous episode on October 1, 1999 ended after only one round, making it the shortest-played game on record (YOU FOOL!)
* The series has gone through three different permanent announcers over its six years. Shadoe Stevens started the run and carried on until the end of Season 4 (he did come back in Season 6 as guest announcer for Game Show Week 2). Semi-regular Jeffrey Tambor took over the role for Season 5 and was sometimes helped by Henry Winkler, while John Moschitta (listed in the Guiness Book of Records as the world's fastest talker) closed out the series. Game show fans got a treat when the late, great Rod Roddy took the microphone to guest announce Game Show Week 1 in Season 5
Lobby